"I am the Future ...
I have no voice ...
Please fight for me ...
I am worth it ...?"


By Leanne Howard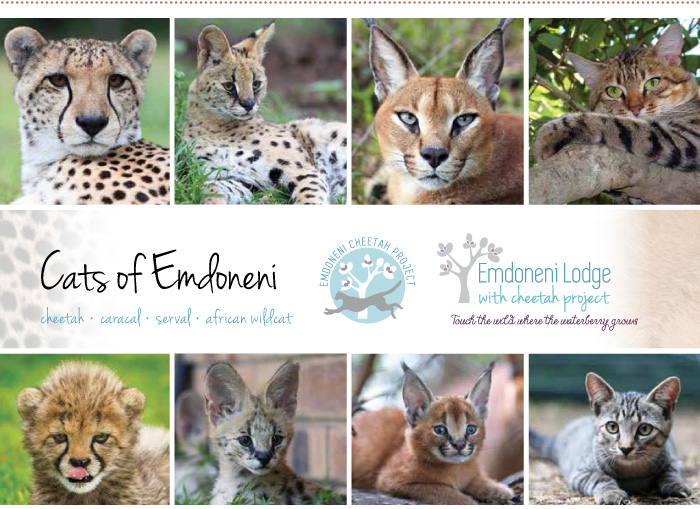 ANIMAL CARE & REHABILITATION CENTRE
Emdoneni has successfully managed a Cheetah Project since 1994 and a Serval Project since 1998, with a vision to provide and maintain an environmentally friendly and aesthetic wildlife centre.

The purpose of the Project is to facilitate Environmental Education and Conservation of CHEETAH (currently listed as endangered) and SERVALS (becoming increasingly threatened through habitat loss and hunting), as well as Caracal (African Lynx) and African Wildcats, which are also under threat, albeit to a lesser degree.

The main emphasis of the Project is to release the offspring of animals back into the wild where they belong. We are proud to have released 13 Caracal, 7 African Wildcat, 19 Serval and 1 adult female Cheetah to date (Aug 2017). Two male cheetah cubs are currently in our rewilding program.
ADOPT A CAT PROJECT
Adoption of animals in care centres by individuals or companies raises funds for the well-being of animals in captivity, and is a system implemented worldwide by such organisations.

We offer educational tours daily, with feedings during the afternoon tour and an informative talk about the animals and the project by an experienced guide.
TOUR TIMES
| | |
| --- | --- |
| Mornings: 10h30 daily | Afternoons (includes feeding): |
| Summer: 16h30 daily | Winter: 16h00 daily (May, June, July, Aug) |
PLEASE NOTE: ON ARRIVAL
Guests need to arrive at least 15 minutes prior to commencement of the tour to obtain tickets from reception. All guests will be required to sign an indemnity form at the front gate and/or at reception.

Guests are requested to gather at the waiting area close to the cat enclosure, or at the coffee shop, and not to wander around the lodge area, which is reserved specifically for in-house guests only.

The guide will meet you on time, to accompany you to the cat enclosures. Soft drinks, water, coffee, tea and light snacks can be purchased at reception /waiting area.

Please respect the cats and do not make any loud noises or run around the waiting area, as well as within the camps.

DURING THE TOUR
1. All tours will be limited to a maximum of 65 visitors or to the availability of the guides. The total number of the guests will be split into groups, not to exceed a total of 20 guests per group.
2. All visitors will be allowed to enter the cat enclosures, with a guide, to get up-close to the cats. At present we have hand reared animals in all four species. Unfortunately due to the latest tourism trend no petting of cheetah allowed at this stage.
3. Visitors enter all enclosures at their own risk.
4. Cats are unpredictable – even if tame!
5. Policies for children:
• 3 years and younger may attend the tour. Regrettably they are not allowed to enter the cat enclosures.
• 14 years and younger may attend the tour and will be allowed in all enclosures except cheetah enclosures.
• Children at all times to remain under parental control.
6. Cheetah enclosures policies :
• No persons under a height of 1.2m.
• Persons 15 years and older may enter the cheetah enclosures but with no petting.
7. Should any visitor cause a disturbance to the cats or tour, they will be asked by the tour guide to leave the enclosures immediately and to wait at the coffee area.
8. Please follow the guide's instructions at all times.
9. Please stay with the group while attending the show.
10 No running within the camps or outside the fences.
11. No loud noises of any kind. Crying babies to be comforted at the waiting area, please. This is not only a disturbance for other guests but for the cats as well.

The above arrangements are for your own safety as well as for our cats.
Thank you for your co-operation.
Emdoneni is a family run, 3 star, award-winning lodge in Zululand

Emdoneni Lodge offers intimate and comfortable accommodation in the form of chalets and rondavels, on a dinner, bed and breakfast or B&B basis. Rejuvenate your senses with a relaxing treatment in the comfort of your own room or at the Spa.

Activities include visiting the cat centre, guided walks amongst the animals, game drives and a children's program.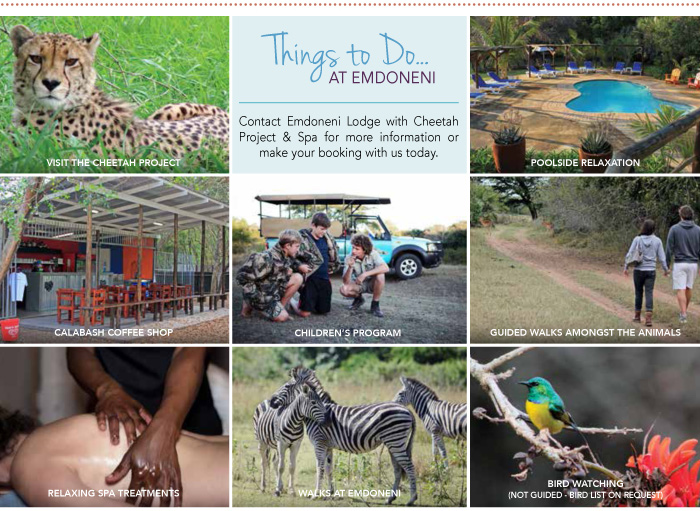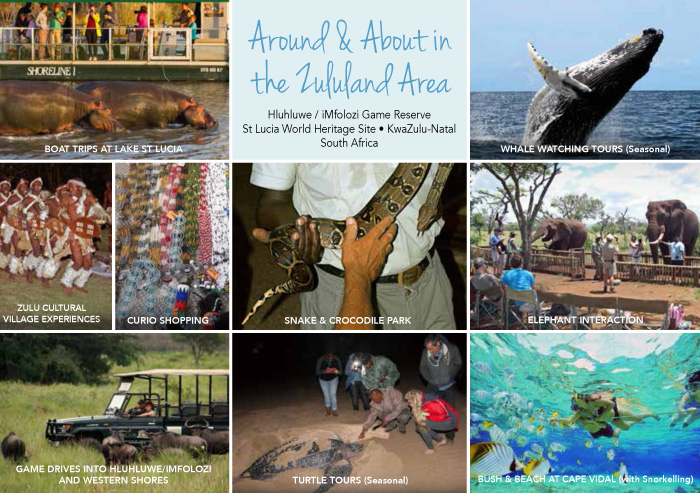 | | |
| --- | --- |
| | SPOTTY, has recently gained a new partner, Bennie. We wanted Bennie to start a new bloodline with the female servals and so he did! Spotty is pregnant! We cannot wait for her babies to arrive! |
| | |
| --- | --- |
| | SHEILA, recently gave birth to seven babies! Unfortunately, they were all premature and they did not make it. Not to worry, we gave mommy Sheila all the love and care she needs. She is currently back with Bennie to try again after her much needed rest. |
| | |
| --- | --- |
| | BENNIE, rains supreme when it comes to feeding. Often putting on a show for the guests in the afternoon. He is not the gentlest of partners but Sheila and Spotty does not take his nonsense! Despite his not-so-friendly personality, he is still the handsomest Serval on the block! |
| | |
| --- | --- |
| | Cassidy, we are thinking of changing his name to Calvin as he likes to strut around for guests like a Calvin Klein model, often leading them around in the enclosure while he does his catwalk! He likes to talk to his next-door neighbour, Bennie. We think he might be asking for dating advice ... |
| | |
| --- | --- |
| | MAFUTA, is a very playful boy with a slight shoe fetish. He is particularly fond of tekkies and flip-flops! He loves attention and likes to rub up against the guests and maybe give one or two a little spray. |
| | |
| --- | --- |
| | HOPE, is scheduled to be re-wilded and released in the near future with one of our male servals, Noah. She is very feisty and likes to hunt mice, rats and birds that venture to her enclosure. She like to assert her dominance over her enclosure mates but comes second to Felix when it comes to feeding time! |
| | |
| --- | --- |
| | FELIX, is the only male in with two females and he is loving it! He has bonded especially with one female, Kiza. He will stay with her for a few more months in their rewilding process and then be released together in their new home in iSimangaliso Wetland Park. |
| | |
| --- | --- |
| | KIZA, has bonded with one of her enclosure mates, Felix. She will stay with him for a few more months in their rewilding process and then be released together in their new home in iSimangaliso Wetland Park. She is very shy and stays away from people as much as possible so we are very hopeful that she will be successful in the wild. |
| | |
| --- | --- |
| | Noah, is currently in his re-wilding process. He is becoming quite the hunter, catching crows and smaller birds that land in his enclosure. When he is ready to be released, he will go to his new home in iSimangaliso Wetland Park. |
| | |
| --- | --- |
| | FEATHER & SMOKEY, we received these two at a month old, survivors of a sugarcane fire. They were smoked out of the blaze and got separated from their mother. They were found by the farmer and brought to us. Luckily they were past the age of bottle feeding and so they remain wild. When they reach a year old, they will also be released. Why Feather? About two years ago, a special lady who is battling with cancer stayed at Emdoneni Lodge. We asked the guest, named Feather if we could name one of the serval survivors after her. This touched her and she is honored by this gesture. |
| | |
| --- | --- |
| | PHOENIX, was brought in from a sugarcane fire. She was not so lucky as Feather and Smokey. She was burnt by the fire, her paws, her nose and all the hair on her body. Our team of dedicated vets and wonderful staff managed to treat her wounds and she is making a full recovery with us. Luckily she were past the age of bottle feeding and so she remains wild. When she reaches a year old, she will also be released. |

| | |
| --- | --- |
| APPLE, she is still the queen of the enclosure, her word is law. She loves the attention from the guests and will come close for all to see. She has recently developed a taste for butterflies and praying mantises as little snack in-between feedings. | |
| | |
| --- | --- |
| Willow, our little escape artist still likes to try her luck. She tries to sneak out but our well-trained guides always catch her in the act before she can get out. She is the smallest of the four and is picked on by Apple during feedings. | |
| | |
| --- | --- |
| Grumpy, is still as friendly as ever. Her favourite pastime is to snarl and hiss for photos. She will come collect her food and go eat in peace away from the others. | |
| | |
| --- | --- |
| KHAYA, likes to strut around for the guests to show them what the prefect specimen of what an African Wild Cat should look like. He is very eager for his meals and has become a lot more vocal. We are not sure if he is telling us he is happy or upset that he as three kinds of drama to deal with from the females! | |
| | |
| --- | --- |
| CINNAMON, our little man has decided there cannot be two alpha males so he decided to re-wild himself on the property. He has been neutered so he cannot crossbreed with domestics. We still see him from time to time but he always alludes us when we get close. | |

| | |
| --- | --- |
| | BAR-ONE, he still remains our golden boy, loved and adored by our guests. He likes to let us all know who is boss when we enter his enclosure by strutting around "talking" to us. |
| | |
| --- | --- |
| | BLAZE, is doing very well and has become a greedy little man. He frequently asks for a second helping at feeding, only getting his way once in a while! He likes to walk around in his enclosure "talking" to himself. |
| | |
| --- | --- |
| | CARLOS, our amazing acrobat thrills guests during the afternoon feedings by demonstrating how high these cats can jump. He clears the fence every time with little effort. |
| | |
| --- | --- |
| | DIEGO, he is our classic man, often posing for photos laying down with his front paws crossed over. He frequently has a hissing contest with Carlos next door but he really missis his girlfriend, Savanna. |
| | |
| --- | --- |
| | RUBY, is currently having rest from her mate, Carlos. She recently gave birth to two kittens but unfortunately, the kittens did not make it. She is having much needed time off before the next breeding cycle. She is in an enclosure with two of our other females, Savanna and Lulu. She is still cautions with Lulu but the best of friends with Savanna. |
| | |
| --- | --- |
| | SAVANNA, is currently having rest from her mate, Diego. She recently gave birth to two kittens but unfortunately, the kittens did not make it. She is having much needed time off before the next breeding cycle. She is in an enclosure with two of our other females, Ruby and Lulu. She is the dominant girl of the three and always comes to get her food first. |
| | |
| --- | --- |
| | LULU, is currently having rest from her mate, Bar-One. She did not fall pregnant in this breeding cycle but is on time off with two of our other females, Savanna and Ruby. Even though she is the eldest, Lady Lulu is still her shy self and keeps to herself. |

| | |
| --- | --- |
| MOYA, our big boy still remain the star attraction. He enjoys posing for photos and roll over to keep things interesting for the guests. He has been getting a little bit of exercise lately, challenging the new boy on the block, Granite. | |
| | |
| --- | --- |
| JUBA, our other big boy also loves to show off in front of our guests. He loves posing for photos and gets jealous if Moya is more in the spotlight than he is. He also likes to paw at the shoes of the guides when they get close, wanting to play. | |
| | |
| --- | --- |
| DEW, has been trying his skill at hunting, taking down a few Hadeda Ibis that made the mistake of landing in his enclose. He has a new friend called Raine. He likes to practise his talking skills on her, which she does not appreciate at all! | |
| | |
| --- | --- |
| RAINE, has taking a liking to Dew (when he is not trying to get her to play a game of tag) and we hope they will give us a littler of cubs or two once they both come of age. She has become very playful, she loves shoes so much she tried to take one form one of the guides! Gave them a good run-around to get it back! | |
| | |
| --- | --- |
| DUSK, had a little excitement recently, having to live with his brother and Raine for a few days. During harsh winds, a tree fell on top of his enclosure fence. He bunked with Raine and Dew until his enclosure was repaired. Both Dusk and Dew are growing into fine young males, hopefully they both can become fathers one day. | |
AUTUMN, MIDNIGHT & MOONLIGHT, Moonlight gave us quite the scare recently. He had to spend some time at the vet due to a hairline fracture. He has made a full recovery and is back at the project. Autumn and Midnight missed him terribly when he was away. On his return it was like he was never gone, one call from mom and he couldn't get out of the carrier fast enough.
| | | |
| --- | --- | --- |
| | | |
| Autumn | Midnight | Moonlight |
| | |
| --- | --- |
| MIST & GRANITE, our new arrival came to us from a project that closed down in Bela Bela, Limpopo. They are 13 years old and has made Emdoneni their retirement home. Granite was the dominant boy at his previous home and now challenges our resident dominant boy, Moya, through the fence. They often run up and down the fence lines to the delight the guests... | |


May 2017 - August 2017

Date Adopted
Adopted by
Cat
Species
Period
May 2017
Marc Orchard
Shadow
Cheetah
Lifetime
Shirley Hollandsworth
Dusk
Cheetah
Lifetime
June 2017
Tania Whitehead
Blaze
Caracal
One Year
Olivia Mutis
Raine
Cheetah
One Year
AGI
Blaze
Caracal
One Year
Maxime Merlat
Dusk
Serval
One Year
Sara Walker
Bar One
Caracal
One Year
Jeff & Carly Dawson
Mafuta
Serval
One Year
Mia, Sienna & Lola Raeburn
Khaya
African Wild Cat
Lifetime
Courteney Raeburn
Apple
African Wild Cat
Lifetime
July 2017
Tom Thorogood
Dew
Cheetah
Lifetime
David & Barbara Beumee
Kiza
Serval
Lifetime
Aug 2017
Pierre Kieffer
Midnight
Cheetah
One Year
Mada Otte
Ruby
Caracal
Lifetime